The Sacramento Valley has a huge community of people who love remote control hobbies. Fast Track Hobbies has decided to bring the general community together to experience modern remote-control (RC) for themselves and to teach people about it. Everyone will have a chance to try driving an RC car, truck or boat for free! Try RC for yourself at the first annual RC FEST!

We believe the Sacramento Valley RC Fest is going to be unforgettable for kids and parents alike! Our editor had a chance to speak with the main organizer, Dwight, and ask him a few questions to learn more about this event.


Dwight, where did you get the idea to create such a festival?
I have been to festivals like this before in other areas and it was so much fun that I decided it was time for Sacramento to have an RC festival. In the modern world of phones and video games, RC will get people outdoors and enjoying life. There is an exciting world of RC and hobbies and I want everyone to discover it!
What age is the festival suitable for?
This festival is for all ages. I am sure that parents will be just as excited as their kids. Many adults played with an RC at some point in the past and it is time for them to enjoy this hobby again. RC has improved a lot with modern technology. This event is perfect for having a great time with the entire family.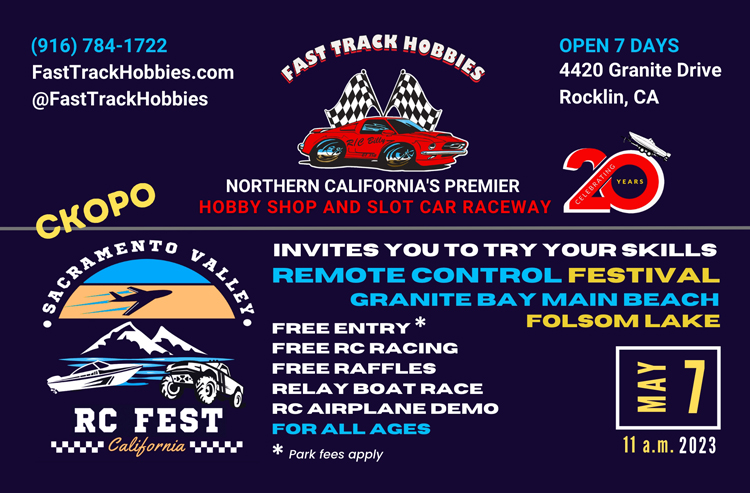 Could you tell us more about what will happen at the festival and what to expect?
Everyone will have a chance to try their skills driving RC cars, trucks and boats. There is going to be a plastic model expo including cars, planes and jets! Enjoy RC Airplane demonstrations and learn how to use a metal detector! Everyone can participate in a relay Boat Race every hour with prizes! There will be a prize wheel and hourly raffles. Everyone is going to have a fun and exciting weekend at the festival!
Where else can people try playing with an RC other than the festival?
Fast Track Hobbies recently celebrated our 20th anniversary. We have over 9,000 square feet of RCs, hobbies and entertainment! We carry remote control toys, trains, metal detectors, puzzles, games, slot cars, etc. Slot car racing requires you to drive your car on the edge without pushing it past its limits and the more you practice the faster you will go for the win! We offer slot car racing birthday party packages where you can race and party.
Where and when will the Sacramento Valley RC Fest be held?
We are hosting the event at Granite Bay Main Beach at Folsom Lake on May 7th . It starts at 11 am and the weather is going to be perfect that day for flying, boating, racing and having fun. If you are looking for a new hobby or want to show your rc skills, we are looking forward to meeting you at the festival! The first annual Sacramento Valley RC Fest is waiting for you and your family to enjoy together. There is no registration and no fees!