Southern California is a place where people go on vacation with their kids because of its beaches and variety of theme parks. In summer it is usually not as hot as in the valley, and winters are always milder. Here are the top 10 places travelers should definitely check if they are planning to go there with kids.
1. Disneyland and Disney California Adventure Park
Disneyland and Disney California Adventure Park are two parks located in Anaheim, California. Both of these parks are Disney theme parks, and the entrances to the parks are opposite each other. The Sleeping Beauty Castle is located in Disney Park. And it can be easier to feel the atmosphere of Disney in Disneyland Park. It is possible to buy a ticket to one of these parks, buy two-day tickets for two parks, or buy a Park Hopper ticket that allows tourists to visit two parks on the same day. There is also an Express Pass option to skip the lines at some attractions, but it's needed to download the Disney app and book those rides one at a time.
Recommendations: If you only have one day to visit the parks and you are looking for a Disney atmosphere, it is better to go to Disneyland. Disney California Adventure Park is more like Six Flags with different attractions and rides, but still Disney themed. The ticket price in the summer season starts from $150 and depends on the date. You should reserve a date when purchasing tickets. There is also an option to buy express passes called Disney Genie+. These passes cost an additional $50 per ticket and allow you to skip the lines for most rides and attractions. This might be a good idea, otherwise you can spend more than an hour in front of each attraction. However, we recommend you to download the Disney app and book the attractions at the entrance to the park, because some of them are only available in an hour or more. Also, with these passes, you should be aware that you can only reserve one attraction at a time, and not all rides work with Disney Genie+.
2. Legoland
This park is located in Carlsbad, California. The park is filled with LEGO installations and attractions. It has LEGO Miniland as well as rides, attractions and shows. Good for both kids and adults. There is also an option of Express Passes for skipping lines, which can be purchased for an additional fee.
Recommendations: The prices for LEGOLAND during the season start at $110 per person. There is also an option of express passes at the park, but here it is called Reserve'N'Ride. There are three types of these passes, priced at $35, $55 and $100 per ticket, and they differ in access types and waiting times. The park not only has rides and attractions, but also many places where kids can build different things with LEGO, and parents can spend time building together or relaxing on the bench. The park also has a water park.
3. Universal Studios
If you have ever dreamed of feeling like you are somewhere in a movie, then this is the best place to visit! Universal Studios is located in Los Angeles, California. It has a theme park, studio tours, entertainment and rides. The tour shows how some movies were made. The Wizarding World of Harry Potter was recently opened in the park, where Harry Potter fans can visit Hogwarts Castle, Hogsmeade village and Diagon Alley. Express passes can also be purchased for this park.
Recommendations: Tickets start from $130. Definitely a great idea to take express passes here for $160 more per ticket! Otherwise, it is possible to miss many attractions and shows. The park is huge. And it has not only rides, attractions and tours but also studios where the movies are filmed.
4. Sea World
The park is located in San Diego, California. It is one of the three most visited parks in San Diego. This is the only park in California where visitors can see orcas and their water shows. The park has a marine mammal park, an aquarium and an oceanarium. There are various outdoor and indoor exhibits. The park is also a rehabilitation center for marine animals. Visitors can see different types of fish and marine mammals, watch shows with orcas, dolphins and seals, and talk to workers of the rehabilitation center.
Recommendations: Great place to learn about sea creatures and to enjoy some rides. The park recently opened Arctic Rescue, the fastest and longest straddle coaster on the West Coast. Tickets start at $65 per person. A must visit place in Southern California.
5. San Diego Zoo
According to KPBS, this park was rated by travelers as one of the best zoos in the world. The park has cage-free exhibits where animals feel like they are in their natural habitat. Visitors can enjoy an aerial tram and view the zoo from above. The park has giant pandas which make this park a must visit place for many people. The park is located in San Diego, California.
Recommendations: The territory of the park is quite large. So it is a good idea to take strollers for kids and plenty of water as it gets hot there in summer. Giant pandas are really adorable, but most of the time they sleep. We recommend that you start your day from a panda exhibit, then you will have a better chance of seeing pandas active and avoid getting stuck in a long line.
6. San Diego Zoo Safari Park
Safari is located in Escondido, California. Until 2010, the park was called the San Diego Wild Animal Park. This is one of the largest attractions in San Diego. There are different types of animals from all over the world. Also, the park has the largest veterinary hospital in the world. The ticket includes a 3-minute safari on an African Tram. There are also 11 other paid safaris such as cart, balloon, flightline, and shows and tours. The park is great for those who want to experience the wild.
Recommendations: One of the three must-see parks in San Diego. For nature lovers, this is a great place to feel far away from civilization and see animals in their habitat, such as roaming herds and running cheetahs. One day may not be enough to see everything, and there is a 2-visit pass option that costs around $110. However, there is also the option of a 1-day pass from $60. Apart from the African Tram safari, the rest are paid, but we recommend trying a couple of them.
7. Griffith Observatory (Hollywood Sign)
The observatory is located on the south slope of Mount Hollywood in Los Angeles, California. This is one of the most visited places in Los Angeles due to the Hollywood Sign that can be seen from this point. Griffith Park has many trails, and visitors can take the official Hollywood Sign walking tour. The observatory shows a view of Los Angeles. The Griffith Observatory can also be interesting for kids with its exhibits and shows.
Recommendations: This place is definitely very popular among tourists. Some people go there to take pictures of the Hollywood Sign, others enjoy the views of Los Angeles when the sky is clear. The best time to visit is early evening. You will have the opportunity to stargaze from the observatory's giant telescope and enjoy the lights of Los Angeles. But go there while it is still light to see the Hollywood sign. Estimated time spent there is 30 minutes to an hour. The observatory inside is also a good place to learn the basics of astronomy. We recommend parking your car at the bottom of the hill, there is a large parking lot. The walk from there to the observatory takes about 30 minutes.
8. Santa Monica Pier
The most popular beach in Los Angeles is the Santa Monica Pier. Beautiful sunsets, lifeguards, relaxed Californians can form a picture from some Hollywood movie in the mind. There is an amusement park, shops, restaurants and the pier. During the day people can visit the amusement park, and later in the evening enjoy the beach.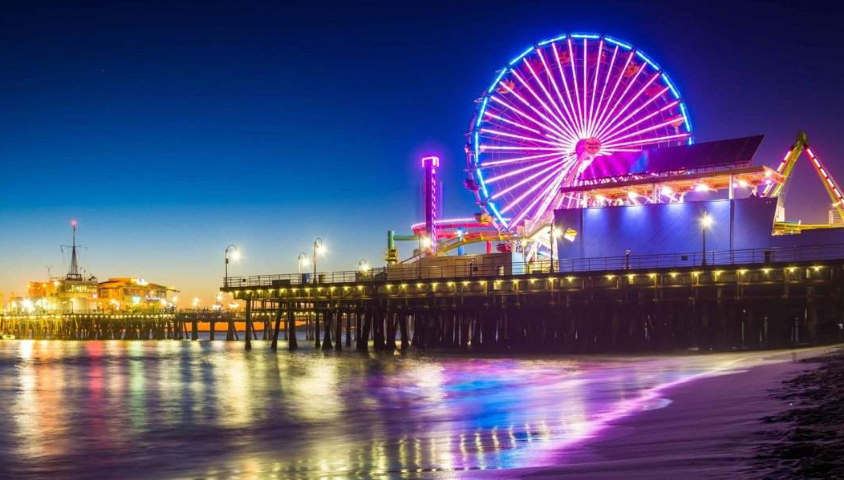 Recommendations: Go to the park and ride the Ferris wheel. It is worth looking at the ocean from the top of the wheel. If you do not plan to spend the whole day there, late afternoon is the best time. You will have plenty of time to explore the park, watch street performers and enjoy the ocean. You can also learn to surf starting at $60 for two hours. And don't forget to watch the sunset from the beach or from one of the restaurants on the Santa Monica pier.
9. Aquarium of the Pacific
The aquarium is located in Long Beach, California. This is the largest aquarium in California. Visitors can learn about the different inhabitants and seascapes of the Pacific Ocean in three galleries: Southern California and Baja, Northern Pacific and Tropical Pacific. There visitors can see sea lions, seals, rays, sea otters, penguins, Giant Pacific octopus, sharks, turtles, Japanese spider crabs, jellyfishes and other inhabitants. On the lawn in front of the Aquarium there is an Earth-friendly Garden where visitors can find some solutions to California's water shortage problems.
Recommendations: The estimated time to visit the aquarium is three hours, but it may take longer if you plan to attend shows and special events. Take a list of these shows and events upon arrival and plan your visit according to the list. The aquarium does not allow outside food or drinks. There is a nice café upstairs. If you have small kids, bring your own strollers, there are no rentals there. Tickets are $30 for kids and $45 for adults and you should reserve a date.
10. Walk of Fame
Located in Los Angeles, California, the Hollywood Walk of Fame has 2,752 stars. The 18-block walk features the boulevard's stars for the achievements in the entertainment industry. Tourists from all over the world come to Los Angeles to see this walk and find the stars of their favorite actors, singers and other celebrities. Also, on the Walk of Fame there are various museums, theaters and shops. One of them is Madame Tussauds museum with its wax figures.
Recommendations: If you just want to walk along the Walk, one hour may be more than enough. But people usually look for specific stars and go to gift shops. This place is one of the most popular places to visit and it is very crowded. Take water and a hat. And if you have time, visit Madame Tussauds Museum. It is a great place even if you have visited it before because the museum adds new figures once in a while.