Ulyana Zilbermints is a Silicon Valley tech executive, a business owner, and a mother of precious three-year old twins, Andrew and Evan
On top of balancing an engaging career with a beautiful family, this young woman is also a title holder of two prestigious beauty pageants, Miss Russian San Francisco and Miss Russian California, where she claimed first and second place respectively. You could say Ulyana is living the dream, but it was a long way that got her there. Here is Ulyana's story in her own words.

When I was a little girl my friends called me "Little Miss Sunshine." I loved being around people, so at the age of 12 years I decided to become a journalist and I began writing for a teenage magazine. I was scared and uncertain of whether I could write at all, but nothing could stop me from trying. As early as 12, my personality and positive energy were the key to continuously moving forward and improving. Combined with my love for people, this energy and determination helped me write countless articles, run a column about the local circus, and interview traveling artists and acrobats.
If a woman does not realize her creative capacities and pursue her dreams, then life is passing her by.
A year later, I worked with a group of friends to create our own TV program, we were real entrepreneurs! Working from the producer's apartment, we came up with scripts, interviews, and events. This was an incredible experience that helped me learn how to screen-write, act, host, produce, and edit videos.

It all changed when at the age of 16 when I had to move away with my family, leaving behind love, friendships, and the perfect weather. I found myself living in a cold, grey, and small town a few hours away from St. Petersburg. Lost and alone, I succumbed into a deep depression. It felt like I lost my entire world!

That's when I decided that I will find a way to make my life great again. Passing the toughest competition, I got accepted to the St. Petersburg State University. I moved back to St. Petersburg and began materializing my dreams.

To support myself through college I got a job at a TV station and auditioned with a large movie studio, ending up with credits in over ten movies! At the same time, I was launching my modeling career with photo-shoot gigs for salons, magazines, and more. However, despite all my creative success, I was missing love and felt just as alone in the big city as I previously did in the suburbs.
One New Year's Eve, after a heartbreaking breakup, I started reflecting on my life and thinking of where I wanted to go next. Shooting for the stars, I wrote in my notebook, "I want to be married and live in California." It was ambitious and completely crazy. I closed the notebook and forgot all about it.

A year later, when I opened that notebook, I was celebrating NYE with my husband in San Francisco! I was completely amazed at how our words can materialize and became a reality! I have been practicing this notebook goal exercise ever since.
Being a title holder for Miss Russian San Francisco is a magical experience! It's a tribute to beauty, love, and Russian culture.
Today I'm a successful business woman, a mother of twin boys, a model and the owner of a successful interior design company. However, my life is still full of twists, turns, and possibilities. For instance, I once received an invitation to participate in Miss Russian San Francisco beauty pageant. Despite my immediate thoughts ("I'm too old, I'm too busy, I'm not good enough"), I decided to take a leap of faith and said "Of course!" Casting and rehearsals were fantastic, and I was enjoying every moment of it. Winning was not even on my mind, so when I've heard Karina, the pageant organizer, announcing my name as a winner, it was magical!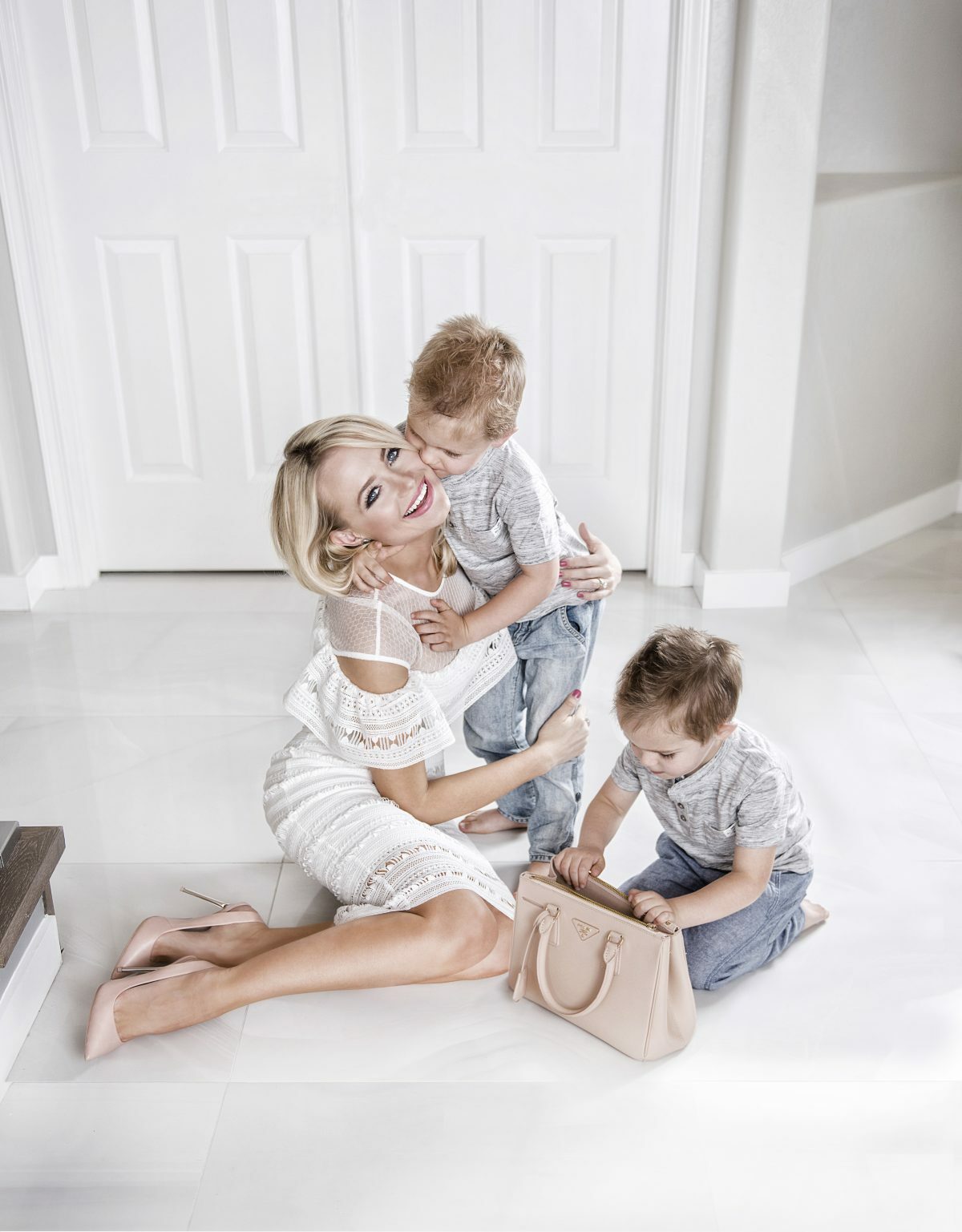 I am passionate about dancing, modeling, photography, design, painting, active sports and traveling. But my biggest joy is to be a mom to my 3-year old twins.

A lot of moms ask me how I find time to juggle all these things. The answer is simple: I live in the moment and put the past in the past where it belongs. This gives me the power to draw on the blank canvas which is my future. Another key to success is letting go of control. We, women in general and moms in particular, love the validation of our power that comes from controlling everything around us. But if we let go we can create teams and empower other people.

These days I don't have time to watch TV or sit around on the couch. I am moving every minute of my day and loving it!

I listen to my body, do Pilates every morning and evening just for 10 minutes, and do sit-ups while brushing my teeth. I wake up at 6:15 to get my exercise done, get ready for work and look fabulous. I turn on the music to wake up the kids, get them ready, and leave the house at 7:15 to drop them off at a daycare. At 8 I create a possibility for the day to set the tone (for instance, the possibility of generosity, or love, or connection, or happiness), and dance through conversations as I connect with people. During my commute I read the latest news and set goals in four areas: work, personal development (health, artistic and creative self-expression), family, and my interior design business.
The more I do, the more I accomplish. I set goals, but make sure I enjoy the process of achieving them.
VALUES

My advice to all wonderful moms! Never doubt yourself and your decisions as a mom. You are the best your kids got. Don't look for answers in the past and be present for your kids! Create team and teamwork and find time for yourself during the week. Be on the same page with your significant other and stick to a plan if you decide to implement a system or a program. Recently we introduced a fun star rewards game which kids love to play. They now can't wait to clean their toys, brush their teeth and behave before they go to bed. They count their starts until they reach that magic ten for a well deserved reward! My final golden tip – be in action for what you want in life without thinking if you win on not. The space that opens up is magical! Play and have fun!