What springs to mind when imagining a weeklong getaway in Costa Rica? Relaxing on white sands with a beverage in hand? Trekking through lush green jungles with soaring toucans overhead? Costa Rica provides these opportunities and so much more. Beyond its famous toucans, monkeys, and sloths, Costa Rica is home to five percent of the world's biodiversity; an outstanding number for a country under an eighth the size of California!
Costa Rica has a little something for everyone. Stunning volcanic craters, some of the world's best surf spots, and endless fields of coffee beans. In fact, many of Costa Rica's coffee farmers are partnered with Starbucks! But believe me when I say that nothing beats a fresh cup straight off the plant. For these reasons my family ditched the rainy California weather this spring and headed south to the land of Pura Vida.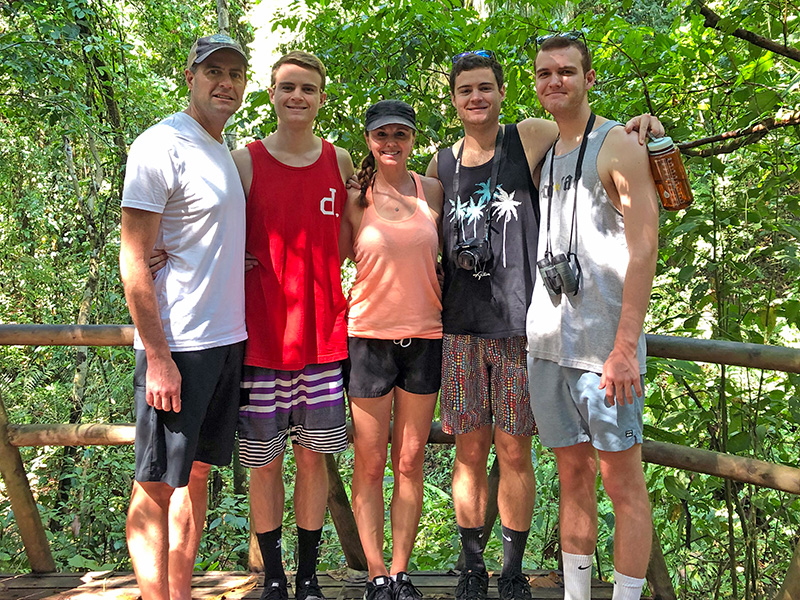 KORY WITH HIS FAMILY IN COSTA RICA
THE LAND OF PURA VIDA

After a short plane ride, we grabbed a rental car and headed to La Fortuna, home not only to Costa Rica's famous Arenal Volcano but also some of its most exotic wildlife. In an intimate tour with Bogarin Wildlife Travel, we wandered a labyrinthine garden and encountered an assortment of critters including sloths, frogs, and giant owls.

We enjoyed the tour so much that we went back for an eerie night tour the same day. Luckily, we never crossed paths with the Fer-de-Lance, Costa Rica's most venomous snake, but we did find a translucent frog!
Feeling brave and not yet having our fill of trees, we geared up for a ziplining expedition through the jungle. Thick fog hung in the zipline trajectory, creating a unique and daring experience. Once back on our feet, we ventured to a local hot springs river to warm ourselves up.
After one more night beneath the volcano, we packed our things and headed towards Manuel Antonio, one of Costa Rica's finest, coastal paradises. On the way, we stopped in the happening surf town of Jaco. We also passed over a bridge where the local crocodiles like to bathe in the sun.
Finally, we arrived at our bungalow, greeted by the songs of tropical birds and friendly monkeys. From our patio, we could see Manuel Antonio Beach below with all of its natural splendor. During our time there, we explored the beach, relaxed by the poolside, and even signed up for a yoga class.

Pura Vida indeed!